Jerry Gillespie still driving Stutz at 96 years old. The joy is in the journey, and the journey is the destination. Keep on Driving.
Club Project
Running Board Moldings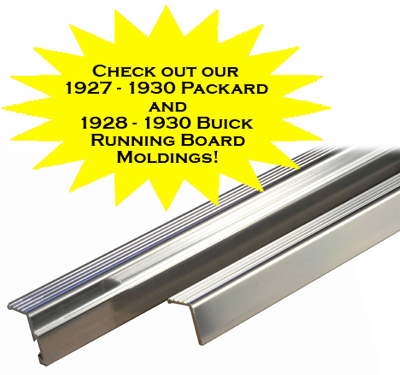 1927 - 1930 PACKARD and 1928 - 1930 Buick RUNNING BOARD MOLDINGS
For 1927-30 cars. Replace your bent, dented and weathered running board moldings with faithfully
reproduced duplicates. All moldings are polished and bright-dip anodized, ready to cut and install. Price $295.00 per set (5 pieces, enough for one automobile) + shipping and handling. See Project page for more details.

Coming Events
Plan to attend and share with a friend!
DVR and CCCA events are highlighted in bold red.
For more, please visit our Events page.
For information about other car events, check www.autoevents.org.
On pages 28 and 29 of their 32-page website they list world-wide events.
***
Last updated 30 October 2023
Sunday, 23 July, 2023
NBA Antique & Classic Car Show 2023
A State Street event in Newtown featuring autos from 1900 to 1998. New this year: Marques Cars Rolls Royce and Bentley. Trophies and prizes awarded! Over 150 cars will be on exhibit, including Classics, Trucks, Modified/Custom, and Special Interests. Free admission!
Information: /www.newtownba.org/event/nba-antique-classic-car-show-2023
Sunday, 11 November, 2023
CLC Banquet
Location: Pennsaukin Country Club
Time: 11:00 am - 12:00 noon: meeting
12:00 noon - 4:00 pm: banquet
Cost: $42.00 per person. The invitation is open to spouses, daughters, significant others, or a friend of your choice. Meal choice: salmon, beef, or chicken.
RSVP: A head count and preference of food are needed by Tuesday, 31 October and money by Friday, 3 November. So if you can make it, please respond ASAP to Rob Praetorius, rjpraetorius@gmail.com.
Sunday, 12 December, 2023
DVR Meeting
Location: Haddon Diner, 317 Haddon Ave., Haddon Township. NJ 08108
***