About Us
The Classic Car Club of America is a nonprofit organization incorporated under the laws of the State of New York. The Club seeks to further the restoration and preservation of distinctive motor cars produced in the period from 1925 through 1948, to provide a channel of communication for those interested in such cars, and to bring together in good fellowship all who own or admire thee finest examples of automobile craftsmanship. A demonstrable interest in Classic Cars is a requirement for membership.
Membership in the national club is a requirement for membership in any of its regions but there is no restriction on the location or number of regions which a national member may join.
Awards
Sixty-Year Award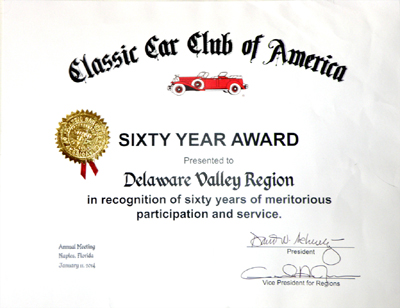 The Delaware Valley Region is one of the oldest continually-operating regions of the Classic Car Club of America. The Region was founded in 1954, and our longevity was acknowledged by the CCCA in 2014 with this fine "Sixty Year Award Presented to Delaware Valley Region in recognition of sixty years of meritorious participation and service".
Membership Special Achievement Award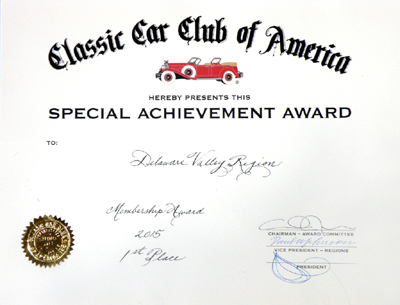 This Award is given to the Region with the best record of membership stability or growth. The Delaware Valley Region was the 2005 winner of the Award, and again for 2015. The 2015 Award appears above.
Board of Managers